Selamat Datang, Al!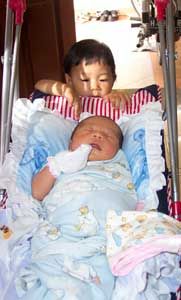 Hari ini, 22 Desember 2005, Dedi Baja dan Momih Vintul berbahagia menyambut kedatangan Frederick Ramiro Al Ghazali (AL), di RS Pertamina, jam 22.02 WIB.
Selamat datang di dunia ya, Al!! You are born to be wild, dude! Yeaahh!!! *diiringi lagu "Born to be Wild" Steppenwolf*

Ngomong-ngomong si Arwen kayanya udah gemes pengen main sama kamu, dude Al.